August 2017
Saturday, August 19
Sarasota Farmers Market presents
WOODSTOCK
9a-2p
This is one of the most colorful farmers markets in Florida, and dog friendly. The Woodstock-themed event will be an all-out fun day. Dress up your dogs in their favorite tie dye bandanas and let's get ready to party. Planning on spending the night? Check in with dog-friendly Hotel Indigo. Be sure to mention THE NEW BARKER when making your reservations.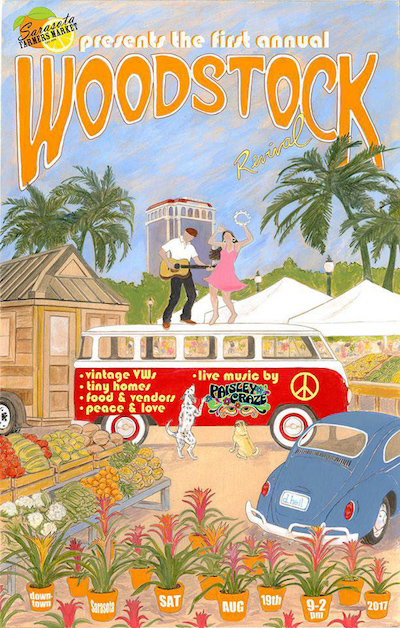 Sunday, August 20
Pet Styles By Jennifer Open House
1p-4p
Come see our new, larger salon designed to pamper you and your pets in style, while enjoying complimentary snacks and beverages.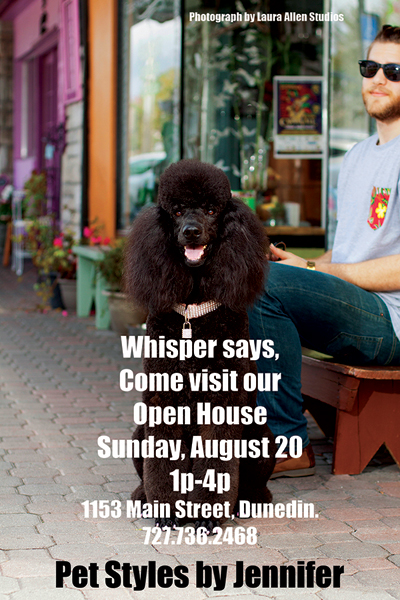 7th Annual Animal Adoption Fair.
War Memorial Auditorium, Fort Lauderdale.
Fun, food, live music. Entertainment all day for the entire family. Animal acts. Dog Training and Police Dog demonstrations. Vaccinations. Veterinarians on-site. Micro-chipping. Ear & Teeth Cleaning. Nail Clipping. Local celebs and more.
AnimalAdoptionFair.com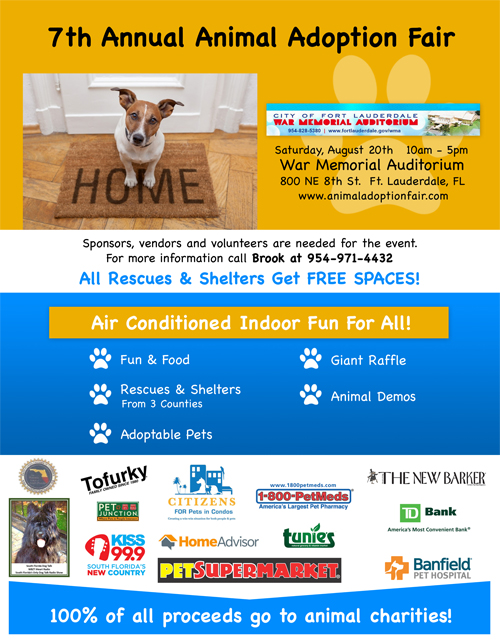 Saturday, August 26
3rd Annual HANG 20 Surf Dog Classic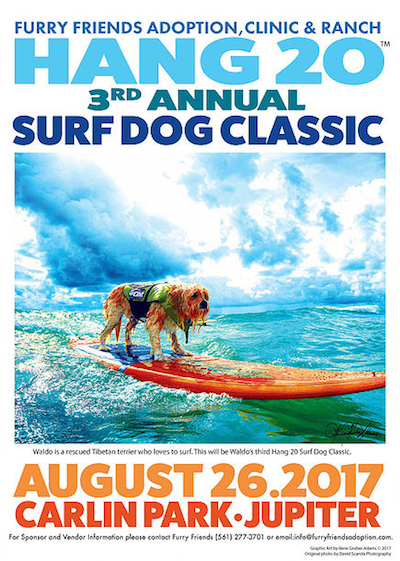 Doggie ICE CREAM Social
11a-5p
The Dog House of Safety Harbor, 737 Main Street, Safety Harbor.
A benefit for Canine Estates.
Adoptable dogs. All dogs will receive a frozen frosty paw treat for a minimum $1 donation.
Sunday, August 27
Bark at the Park with Miami Marlins
1:10 - Game time
Proceeds to benefit Humane Society of Broward County.
Marlins Park, 501 Marlins Way, Miami.
Wednesday, August 30
Aloha Yappy Hour
6p-8p
The HONU, 516 Grant St., Dunedin.
Join THE NEW BARKER and Flooring by French
for a Lei'd Back Evening of Yappiness.
A fundraiser for Humane Education Connection's Canines Helping Kids in Crisis. $10 donation goes directly to the cause and, in exchange, you will receive a personal dish of homemade chips and salsa. Also, 10% of alcohol and appetizers will go to the cause. Special menu and doggy dining menu available.
September 2017
Friday, September 1
Annual Dog Days Downtown Lakeland
6p
Munn Park Historic District, 201 E. Main Street, Lakeland.
A special night for families and their dogs. There will be dog demos, live entertainment, vendors and adoptable dogs from SPCA Lakeland.
Sunday, September 10
5th Annual Canine Lantern Memorial
6:30p-8:30p
Lake Baldwin, 4990 New Broad Street, Orlando
facebook.com/FloatingLanternMemorials/
Saturday, September 16
7th Annual Fashion, Feathers & Fur
6:30p-9:30p
A Mardi Gras-themed event to benefit for 4 Lucky Dogs Pet Rescue, Florida Parrot Rescue, Vets 4 Pets Charitable Clinic, Pennies for Pockets Veterinary Care Fund and Friends of Hillsborough County Animal Services.
Plant City National Guard Armory.
FashionFeathersAndFur.com

Saturday, September 23
Florida English Bulldog Rescue's
Bulldog Beauty Pageant
To be held at Tampa Epicenter Event Venue, 9430 Lazy Lane, Tampa.
FloridaEnglishBulldogRescue.com

13th Annual Humane Society golf tournament
7:30a for registration/continental breakfast; 8:30 shotgun start.
Laurel Oak Country Club.
www.hssc.org/golftournament/
Friday, September 29
Golden Paw Annual Gala
6p-9p
Sheraton Sand Key Island Resort, 1160 Gulf Blvd., Clearwater Beach.
An awards dinner to benefit the operation of the Humane Society of Pinellas.
Dinner, cocktails, live and silent auctions.
Sponsorship packages for businesses available. Contact Twila Cole: Twila@HumanePinellas.org or call 727.433.3134.
October 2017
Saturday, October 7
5th Annual Pasco Pet Fest
Florida Estates Winery
For vendor participation info, visit PascoPetFest.com

SPCA Tampa Bay Pet Walk 2017
For vendor participation, visit 3kPetWalk.org
Saturday & Sunday, October 14 & 15
2nd Annual Tennis For Animals Tennis Tournament
8:30a-8p both days
Harbor Island Athletic Club, 900 S. Harbour Island Blvd., Tampa.
Proceeds to benefit Animal Based Charities.
For more information go to www.TennisForAnimals.org
November 2017
Friday, November 10
Par For Paws Golf Tournament
A golf benefit for 4 Lucky Dogs Pet Rescue and Second Chance Friends Rescue.
Riverhills Golf & Country Club, 3943 New River Hills Pkwy., Valrico.
4LuckyDogs.org
SecondChanceFriends.org
Sunday, November 12
The Dog Wedding of the Century
Oak-K Farm, 1349 Cherry Lane, Lakeland
An event that will be spectacular, and, best of all, benefit rescue groups. For information, contact Lynne Tonte: Steifflover@verizon.net
Saturday, November 18
DogFest Walk N Roll Orlando
9a-2p
A fun-filled day at Lake Lily Park in Maitland to benefit Canine Companions for Independence. CCI.org (click on Southeast Training Center).
Contents ©2005-2014 Cooke Creative.
All rights reserved. Terms of use.