November 2017
Saturday, November 18
DogFest Walk N Roll Orlando
9a-2p
A fun-filled day at Lake Lily Park in Maitland to benefit Canine Companions for Independence. CCI.org (click on Southeast Training Center).
Annual Canine Christmas Festival
10a-3p
Bishop Animal Shelter SPCA 5718 21st Ave. W., Bradenton.
The event draws more than 3,000 people and their pets annually with a variety of vendors for shopping, local rescues with adoptable dogs and a Doggy Fashion Show. Vendor space is now available. Call Samantha Dominis at 941.718.3019.
12th Annual Mutts and Martini's
2p-5p
The afternoon event will take place at Riverwalk Fort Lauderdale. Pet-themed vendors, games, silent auction, live music. Rescue groups will be on-site with adoptables.
For sponsor opportunities, call 954.468.1541, ext 208. Or email Karly@GoRiverWalk.com
Sunday, November 19
Third Annual Peppermint Bark & Brunch
11a - Shop; Noon Brunch and entertainment. Includes a Doggie Buffet.
Trump International, 3505 Summit Blvd., West Palm Beach.
To RSVP, call 561.482.8110.
A benefit for Tri-County Animal Rescue, 21287 Boca Rio Rd., Boca Raton. www.TriCountyHumane.org
Monday, November 20
Annual Puttin On The Poodle
Luncheon and entertainment. Silent and live auction.
Michael's On East, Sarasota.
A benefit for Florida Poodle Rescue - FloridaPoodleRescue.org
Thursday, November 23 (Thanksgiving Day)
2017 Goody Goody Turkey Gobble
7a
5k and 8k run and a dog-friendly walk/run.
Starts and ends in Downtown Tampa outside Amalie Arena.
Delicious post race breakfast provided by Goody Goody Famous Burgers.
Saturday, November 25
Bark Life Market & More
Small Business Saturday
9a-4p
Mimosas and Mini Donuts with some incredible sales.
Both Market locations: 6647 Central Ave., St. Pete and 11220 Park Blvd., Seminole. Call 727.399.3647 for more information.
Sunday, November 26
A Very Doggy Christmas
2p-5p
Jacksonville's Largest Yappy Hour celebrates with a canine costume contest. Photos with Santa. Enjoy live music, a pet expo, games, prizes. 2 Independent Dr., Jacksonville. JacksonvilleLanding.com
SAVE THIS DATE:
December 16-17
AKC National Championship
Orange County Convention Center, Orlando.
December 2017
Saturday, December 9
2nd Annual Weenie Fest 2017
9a-2p
Presented by the North Florida Dachshund Club.
Ocean Palm Golf Course, 3600 S. Central Ave., Flagler Beach.
Wiener races. Vendors. Food, beer and wine. 50/50 raffle.
SunCoast Humane Society Annual Pet Walk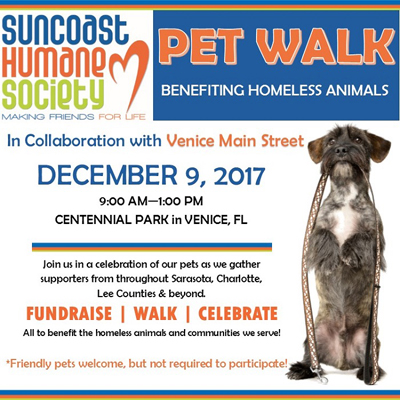 Sunday, December 10
1st Annual Chili Cook Off
Noon-4p
The Ranch Grill, 14475 SR-70 E., Bradenton.
Live music. Trophies. Door Prizes. Raffles.
A benefit for Nate's Honor Animal Rescue.
for more details and contest rules contact: manager@theranchflorida.com
www.NatesHonorAnimalRescue.org
January 2018
Sunday, January 7, 2018
Brunch With Your Pup
10a-Noon
Marilyn L. Mennello Sculpture Garden, The Mennello Museum of American Art, 900 E. Princeton Street, Orlando.
Bring your pups and come celebrate the New Year with us. A brunch buffet will be created by La Femme du Forage. Rookie's Pet Nutrition will be providing a brunch buffet for the pups.
www.MennelloMuseum.org
January 13, 2018
5th Annual Take Me Home Adoption Event
10a-2p
North Florida Fairgrounds, 4441 Paul Russell Rd., Tallahassee.
This is a great event for businesses and there are some sponsorship opportunities available. Vendor space reservations are being accepted now. More than 2,000 people and their pets have attended this annual family-fun event with more than 60% of the adoptable pets finding homes. Activities include: Barnhunt, Lure Coursing, Dog Obedience trials. More than 13 animal rescue groups participating. Food and beverage trucks on-ssite. Prize drawings, giveaways, interactive events for the whole family. For sponsorship and vendor information, contact Grayce Berman, 850.631.2226;
email: DogEvent2012@gmail.com
February 2018
Saturday, February 10, 2018
4th Annual Indie Folkfest at The Mennello
The Mennello Museum of American Art,
900 E. Princeton Street, Orlando.
Noon-5p
Family and pet-friendly event showcasing local, national and regional art, music and culinary talents.
Vendors, artists and volunteers contact Katherine Navarro at 407.246.4278 ext. 4861. www.MennelloMuseum.org
Contents ©2005-2014 Cooke Creative.
All rights reserved. Terms of use.